(831) 240-0837
By Appointment Only - We Come to You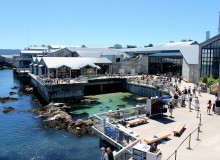 Parliament Tutors supplies the Pacific Grove areas with a wide variety of services to aid you in achieving your academic endeavors. It is our goal to provide students with some of the most knowledgeable tutors in their particular fields. Our services encompass anything from subject specific tutoring to standardized test preparation.
According to the United States census, Pacific Grove boasts one of the highest income brackets in the state. Growing up in this environment sets the standards of achievement higher than those of the neighboring regions. For this reason Parliament Tutors has enlisted some of the brightest individuals in their fields to aid you in your academic ventures. Born and raised in the area, Emily S. returned to Pacific Grove upon her college graduation. "Sharing my passion for the English language has always been my goal, but to have the opportunity to work with the youth in the town I grew up in has made this experience that much more rewarding. I feel like I have more invested in helping these students because of the hometown connection," she notes.
It seems as if every day a new way to improve a student's educational experience is being marketed. With so many classes, instructional books, and Internet resources it becomes difficult to sift through and determine what program will provide the best results. It is this over-saturation in the tutoring market that led Parliament Tutors to take a different approach. Our first and foremost priority is you.
It does not matter if you are in dire need of assistance in a certain subject, are striving to improve your class rank, or attempting to learn a new language; Parliament Tutors has a service that can benefit you. We were founded upon the principle that learning is a never-ending process and no matter what level you may be at, Parliament Tutors can help.
Feel free to contact us with any further questions you may have regarding our services or success rates. We look forward to working with you.