(858) 876-1928
By Appointment Only - We Come to You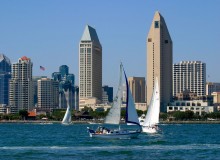 Parliament Tutors is proud to offer tutoring across all of San Diego from Balboa Park down to Ocean Beach, and everywhere in between. Parliament provides top of the line tutoring in every subject, and standardized test across every grade level. These include kindergarten through graduate school course tutoring as well as private one on one tutoring for standardized tests such as the CST's (California Standards Tests), the ISEE, SAT, ACT, GMAT, GRE, LSAT, MCAT, DAT exams and any other academic test for which you need to boost your score.
Parliament Tutors is proud to serve all of the students of San Diego including students at The University of San Diego, San Diego State University, and all of the city's 107 elementary school, 24 middle schools, 28 high schools and 45 charter schools including the Del Mar Union, Porway Unified, San Dieguito and Streetwater Union school districts.
Despite the fact that San Diego is a large, heavily populated and socioeconomically dispersed city, its educational system still performs phenomenally, a feat that warrants applause for their residents and city officials alike. Ranked as the 9th most educated city in the US, close to 90% of residents earn a high school degree and over 40% of residents earn their Bachelor's. The city's educational system is composed of dozens of independently run school districts all of which are loosely supervised by the city of San Diego. Collegiately, San Diego features scores of options at both a bachelor's, and graduate levels, many of which are considered for profit. The top university options according to USNews and employment statistics are the University of California: San Diego, and San Diego State University. Aesthetically, these are two of the most beautiful campuses in the country, and include breathtaking architecture. They also both offer strong academic opportunities, and are widely respected throughout San Diego, and southern California.
According to state tests, math is the weak link for many San Diego students, with fewer than 30% of high school students meeting state wide qualifications. Arroyo Paseo Charter High School seems to be the weakest link according to the San Diego School Board with fewer than 2% of all students meeting statewide math qualifications. Even Scripps Ranch High, which performs by far the best of all city high schools only had 57% of students pass. It is fair to conclude that a majority of San Diego students can benefit from some extra help with math.
School can be frustrating for both a teacher and student alike. The teacher is responsible for several dozen students at all different levels simultaneously, while it is easy for a student to become lost in the crowd. Private tutoring enables a student to be the center focus of a class, and have material taught just to them. This makes it easier for a student to both understand, and feel engaged while they learn.
On the surface, doing better in school will lead to getting accepted into a better college or grad/professional school. However, the benefits don't end there. Doing well in school begets self-confidence, and attention from employers as well. It is no wonder that those who do well in school tend to live more successful lives down the road.