(408) 762-5028
By Appointment Only - We Come to You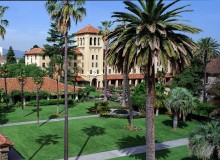 Parliament Tutors offers a number of services, for students of all ages, in the Santa Clara area. In order to help you achieve your academic goals, we work closely with you and capitalize on the techniques that you learn best with. Parliament Tutors differs from other comparable services because our tutors establish a personal relationship with every student. The interpersonal connection between student and tutor is what leads to the success of the pupil.
Santa Clara boasts one of the highest income brackets in the country for citizens under the age of 35. This is particularly relevant to students today because the current state of the job market. The overall income in this region is also well above that of the nation. In an environment such as this, the bar for achievement is set at an astonishing height. This is why Parliament Tutors offers services to help you or your child gain a leg up in this competitive setting. "After college I knew I wanted to teach, but to have the opportunity to come back to Santa Clara and work with the local students has been incredibly rewarding. Not only do I get to help prepare these students for college, but I get to see the younger generation of my hometown continue to improve upon the educational statistics," says local high school alumnus, Molly G.
With distractions coming from all sides, many students find themselves dedicating less attention to their schoolwork and do not have as much interest in their learning material. The continuous improvements in research and technology have produced resources that can make learning more enticing. The utilization of these resources combined with the structure and attention of one on one time have led to the high success rates of Parliament Tutors. By enlisting some of the most skilled tutors and providing relevant resources, we keep you ahead of the curve in your educational undertakings. Parliament Tutors can supply you with the necessary tools that will help you accomplish your objectives.
The subjects that we provide tutoring services for are vast. Whether you need help in conceptual thinking, test taking or would simply like to learn something new, Parliament Tutors can help. If you have additional questions please contact us and we will abate any of your remaining concerns. We look forward to working with you or your child.