(727) 475-2531
By Appointment Only - We Come to You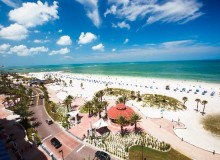 Known for its majestic views of the Gulf of Mexico to its west and the beautiful Tamp Bay to its east, Clearwater is perfectly nested on Florida's West Coast. The city also hosts a rich history as well, dating back all the way to the American Civil War when Union soldiers smothered the then still-developing small town.
Along with a general upward growth trend in recent years, Clearwater has become a hub for the arts, sports, and even educational cultures. It is the smallest of the three cities that make up the Tampa Bay area and is home to the Clearwater Public Art and Design Program, Jack Russell Memorial Stadium, and is just a few miles south of Dunedin Brewery.
In addition to hosting a wide variety of activities for local residents and tourists to engage in, it rubs elbows with several prominent academic institutions like the University of South Florida and the St. Petersburg College Clearwater Campus. Some of the city's leading industries are health care and educational services, so it's no surprise that Parliament Tutors has targeted the area as one of its principal Florida markets.
However, according to the U.S. Census Bureau, Clearwater's educational figures are below average with only about one fourth of the population completing a Bachelor's degree or higher. This number is smaller in comparison to the city's high school graduation rates, which are nearly double that and are parallel to the state's average.
We here at Parliament Tutors hope to change those facts. Our tutoring and test preparation services are tailored to fit any level of student, from kindergarten to medical school and everything in between. Whether you are searching for subject specific tutoring or standardized test preparation, Parliament Tutors has a specialist that can help enhance your educational experience. We're here to make a difference in your education and help you excel beyond what your dreams could ever imagine.