(954) 763-5986
By Appointment Only - We Come to You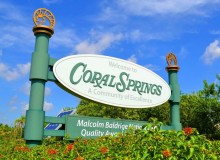 Although not very well known compared to its neighboring cities, Coral Springs hosts one of South Florida's most family-oriented living environments. Located about 20 miles northwest of Ft. Lauderdale in Broward County, it owes much of its development to the post-WWII real estate boom.
In 2006, Coral Springs was ranked 27th best city in the U.S. by Money Magazine and in 2010 was ranked 44th best city to live in by CNNMoney.com. Overall, its accelerated growth rate has been nationally recognized in the few decades since its commissioning back in the 1960s. Not to mention, the average temperature swims between the upper-70s to lower-90s all year long. Not bad, eh?
Bordering the preserved Everglades National Park and located just a mere 15 miles away from the Atlantic Ocean, it has become a favorite for those looking to settle away from downtown city life. Because of its popularity as a family-driven community, many of the city's schools have demonstrated evidence of higher-level learning and have earned the "Five Star School Award" from the Florida Department of Education.
Coral Springs also neighbors several nearby post-secondary institutions like Barry University, Nova Southeastern University, and Broward College, all of which offer partnerships with Coral Springs Charter School. Roughly 90% of adults in Coral Springs have received a high school diploma, while only about half that percentage have a completed Bachelor's degree. We here at Parliament Tutors hope to change those statistics.
Our tutoring and test preparation services are tailored to fit all levels of education from kindergarten to twelfth grade and beyond — making it a perfect match for any Coral Springs student looking to progress their studies and test-taking skills. Whether you are searching for subject specific tutoring or standardized test preparation, Parliament Tutors has a specialist that can help enhance your educational experience. We're here to make a difference in your education and help you excel beyond what your dreams could ever imagine.