(352) 562-7219
By Appointment Only - We Come to You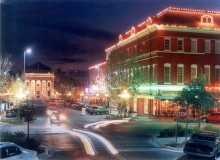 Gainesville is home to The University of Florida, the institution twice ranked as number one party school in the nation and winner of three national championships. But life in this small college town isn't all about partying and football, Gainesville also boasts a highly respected academic community that adds much value to its overall reputation.
With an average enrollment of about 50,000 students, 16 colleges, and over 150 research centers around the world, UF is consistently ranked as one of the top universities in the nation. Not only that, it is ninth on the list of schools that major corporations recruit new employees from and second on SmartMoney Magazine's list of schools whose students receive the highest salary return in comparison to tuition dollars.
Gainesville also calls home to one of the top community colleges in the nation, Santa Fe College, which is known for its esteemed liberal arts, health sciences, and animal sciences Associate degree programs. Santa Fe College enrolls almost 24,000 students annually and is the number one public college in Florida in terms of graduation rate.
With that said, it is clear that Gainesville hosts a highly diverse and rich college environment for students in all areas of study. From grade school to graduate school, Parliament Tutors offers an extensive range of tutoring and test prep services to Gainesville students in everything from math to biochemical engineering.
Maintaining such a reputation isn't as easy as said, however, our drive at Parliament Tutors is to help students overcome the distractions present and succeed in their studies at maximum potential. Our highly qualified tutors excel beyond the standards of your average tutor and will continue to contribute to the rise of the next generation of tomorrow's leaders. Whether you're goal is to improve your grades, test scores or taking on a completely new subject challenge, Parliament Tutors will work with you to help reach your goals.
Go Gators!