(850) 417-8030
By Appointment Only - We Come to You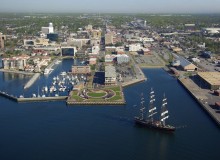 When hearing the name Florida, most people think of the obvious places like Miami and Orlando's Disney World. More often than not, Pensacola is not the first name to come to mind but this panhandle city has a lot more to offer than most people think. As the westernmost city in Florida, it shoulders the Alabama border and sits at the tail end of the sunshine state with gorgeous views of both Pensacola Bay and the Gulf of Mexico.
It is home to the first U.S. Naval Air Station, some of the world's whitest beaches, and has one of the most colorful historical backgrounds in the nation with a handful of foreign influences. With five different governments having claimed Pensacola as its own in the past, the city has been nicknamed "The City of Five Flags" due to its rich cultural history.
Pensacola is also the location of the University of West Florida's main campus, with a number of other institutions calling the city its home. Also known as UWF, the University of West Florida is known for its contributions to research in engineering and humanities. It is the third largest campus in the State University System and lies on 1,600 acres of naturally preserved land, bordering two rivers and Escambia Bay. Can't get much more aesthetic than that, can it?
One of the issues many students in Pensacola face, however, is the distraction that comes with living in an oceanfront city as beautiful and activity-driven as Pensacola. Luckily for students, Parliament Tutors offers a plethora of services within Pensacola and the surrounding bay areas to help keep them on track with their studies. Whether you are trying to get into the right elementary school, right medical school or anything in between, we'll pair you with the right tutor to help you get the right results. In the end, it's up to you to make the right decision when it comes to your education, and Parliament Tutors is here to help you make it.