(912) 228-5074
By Appointment Only - We Come to You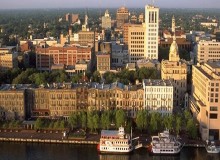 Established in 1733, Savannah holds the position as the oldest city in Georgia and was once the state's first capital city. Its early birth in U.S. history helped Savannah develop its position as one of the nation's strongest port cities throughout the American Revolution and Civil War. Today, it is the fifth largest city in Georgia and the state's third largest metropolitan area with a population of about 360,000.
The city's favorable mild climate also allowed for the substantial growth of the cotton industry in the early stages of its development, resulting in rapid commercial growth throughout the 19th and 20th centuries. Today, it is home to one of the largest historically restored urban areas in the country and is well known for its historical and architectural landscapes. Savannah also has a booming performing arts scene ranging from dance to music and theater.
Savannah is home to a plethora of academic institutions ranging through all levels of education from grade school to medical school. It is home to over a dozen secondary schools and a handful of institutions of high learning — Mercer University, Savannah College of Art and Design (SCAD), Savannah State University, South University, Ralston College and more. It also hosts a number of satellite campuses for John Marshall Law School, Georgia Tech, among others. With that said, it comes to no surprise that Parliament Tutors has chosen Savannah as a city of major focus for our educational services.
Parliament Tutors hopes to contribute to Savannah's highly esteemed reputation as an epicenter of academic advancement in the South. Our programs offer a wealth of private tutoring and test preparation services in the area for students of all ages. Whether you are searching for subject specific tutoring or standardized test preparation, Parliament Tutors has a specialist available to suit your academic needs.