(708) 628-5666
By Appointment Only - We Come to You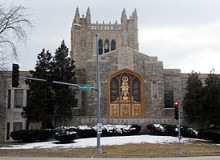 Parliament Tutors is proud to offer tutoring throughout Hillside, Illinois and surrounding Cook County.
Parliament serves the entire Hillside School District 93, Berkeley School District 87 and Bellwood School District 88 in addition to the Roman Catholic Archdiocese of Chicago's multiple private schools, University of Chicago, Triton College, College of DuPage, Elmhurst College and Dominican University.
We provide tutoring for all standardized tests such as the state-administered ISAT exams in addition to national exams such as the ISEE, SAT, ACT, GMAT, GRE, LSAT, MCAT, DAT exams and any other academic test, standardized or school specific, for which you can use that extra boost.
State tests indicate that Hillside students tend to struggle in mathematics, particularly in algebra. Because math more so than even other subjects requires students to consistently learn novel techniques and concepts that are all built upon the material that precedes it, once a student struggles with one part of algebra, it is likely that they will struggle with much of the material that follows it throughout the course. As a whole, nearly all Hillside residents earn a high school diploma, and 25% go on to receive a Bachelor's or professional degree.
Because a tutor's only responsibility is to a single student, a tutor is generally better able to help a student understand difficult material. A tutor is able to focus only on the individual student while a classroom teacher must be responsible for several dozen students at distinct aptitude levels simultaneously. Additionally, by working with an experienced tutor, you have the benefit of being assisted by somebody who has seen students struggle with the same material before, and can pinpoint what precisely is confusing for the student, and break it down in a simple easy to understand way.
Like anything else, succeeding once makes it more likely that one will succeed again. When a student starts to do better in one subject, they tend to also improve in other subjects, and become a better student overall. Once a student becomes confident in their ability to succeed in school, they tend to also become confident in other areas such as their ability to take steps forward professionally and socially. Doing well in school has consistently been shown to be a strong predictor of doing well in most other aspects of life.