(630) 517-2431
By Appointment Only - We Come to You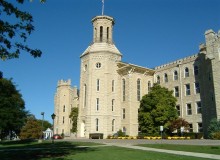 Parliament Tutors provides services for students from primary to graduate school. Our individually tailored programs are geared towards your personal learning style, which is the primary factor leading us to our success rates. Instead of simply teaching you, we strive to work with you in order to increase your understanding and broaden the horizons of your academic abilities.
According to Newsweek magazine, Wheaton North High School was named one of the top schools in the country. Residing in a state with some of the most highly ranked school systems in the country leads to a higher degree of competition among students at all levels. Illinois consistently ranks in line with or above the current national averages. In an atmosphere such as this, adequacy will no longer be adequate. Students are working harder than ever simply to attain the average academic standards. Remaining in or surpassing these standards proves even more difficult.
"Throughout my entire education I was not aware of or chose not to utilize the resources at my disposal. Had I been informed of these, I would have had a much easier time doing well in my classes. However this was not the case. When I'm tutoring the younger generation of students in Wheaton I enjoy helping them learn from my mistakes."
— Emma M., local student
The education system has evolved immeasurably in the last decade and Parliament Tutors is dedicated to keeping up with this progress. We employ some of the most well qualified tutors in Wheaton and always incorporate the most up to date technology to keep you ahead of the curve. Parliament Tutors adapts with your learning style and provides you the best tools for enriching your learning experience. The synthesis of these tutoring strategies is what leads to the unparalleled results among our students.
It doesn't matter if you are looking to improve you grade in a class or preparing to take the MCAT, Parliament Tutors would be happy to assist you in achieving you academic goals. If you have further questions about the services we offer, please feel free to contact us. We look forward to improving you or your child's educational experience.