(504) 267-2316
By Appointment Only - We Come to You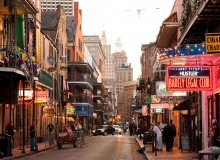 New Orleans, the Big Easy. Home to Jazz music, the French Quarter and the Superdome. As one of America's most famous and historic cities it is also home to some of America's most famous schools. Inside and around the city there are such fine colleges as Loyola University, Xavier University, and of course, Tulane. In recent years, the quality of education in New Orleans has increased, and it is important for all students to adapt to changing times. It is worth noting that New Orleans is the only major American city where a majority of its public school children attend a charter school, a fact which offers challenges as well as opportunities.
As such, it is important that all students be as prepared as possible to meet these rising standards. Parliament tutors offers a wide range of academic services, test preparation, and study help. Every lesson given by Parliament tutors is customized to fit you or your child's specific academic needs, with tutors matched on the basis of skill, and lessons crafted to address whatever situation is at hand. Having a tutor also encourages study skills and good academic habits, positive qualities which can stay for the rest of a rest of a student's academic career.
New Orleans is an up and coming city, but the competition is fierce. A recent study found that 19 of the top 20 non-selective New Orleans schools were charter schools, places of learning which expect more from their students than a comparable public school. The Big Easy may be a city of great history and a rich past, but no place can succeed by resting on its laurels. The push for charter schools by the New Orleans school system is a sign of the times: education is more important than ever in order to achieve success.
Academic help from Parliament tutors can help achieve this success. There may be times in which certain subjects may prove an especially tricky challenge, and everyone needs a little help sometimes. Our tutors can help as they have the experience and educational background demanded in these challenging times, having been where the students need to be academically, they can show the way to your educational goals.
An investment in education is an investment in the future. No matter what your academic situation, you may call on Parliament tutors for assistance, and we can help on the road to success.