(734) 619-6837
By Appointment Only - We Come to You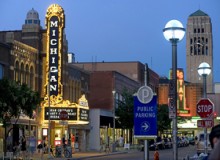 Founded in 1824, Ann Arbor is Michigan's sixth largest city with a population of roughly 114,000. As its population grew throughout the 19th century, it became the new home for the University of Michigan in 1873. Since then, the city has become a huge center for liberal politics that helped fuel local activism during the Civil Rights and anti-Vietnam War movements of the 1960s and 70s. In addition, the school's strong research and technological developments have attracted many industries that helped to employ thousands and boost the city's economic foundations.
Just 45 minutes west of Detroit, it is an ideal location for students who want to stray away from the distractions of big city life. Centered along the Huron River, students can engage in various outdoor activities to help ease the stress of schoolwork, such as hiking, kayaking and other recreational sports. Ann Arbor also boasts a strong scene for college sports, calling home to the biggest American football stadium in the world.
In addition to the University of Michigan, Ann Arbor is home to several other institutions of higher learning such as Concordia University's Ann Arbor campus, Cleary University, Thomas M. Cooley Law School and a University of Phoenix campus as well. Its primary and secondary schools are recognized for having one of the country's leading music programs, with over 16,000 students enrolled in almost 30 public schools throughout the city.
As the number of students attending schools in Ann Arbor continues to grow alongside the city's booming demographics, so will our services in the area. With the help of Parliament Tutors, we guarantee to nurture our students to become the best of the best. Our programs offer a wealth of private tutoring and test preparation services in the area for students of all calibers. Whether you are searching for subject specific tutoring or standardized test preparation, we have a specialist available in all levels of education and all academic subjects.