(803) 250-2531
By Appointment Only - We Come to You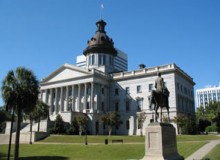 Situated roughly 15 miles east of Lake Murray in the state's Midlands region, Columbia is South Carolina's largest city with a population of about 130,000 residents. As one of our nation's first planned cities, Columbia grew rapidly well before the 19th century due to increased commercial trade resulting from the city's easily accessible railroad transportation services.
During the American Civil War, Columbia was one of the many Confederate cities than fell victim to General William Tecumseh Sherman's military undertakings. As his troops arrived at the city's forefront, a majority of the city would soon be consumed by fire. The state's flagship university, the University of South Carolina, was spared from the burnings due to its temporary closure and use as a hospital during the war.
The University of South Carolina (USC) was founded in 1801 and is the largest institution of higher learning in the state. It offers its students over a dozen different colleges of study, ranging subjects like Business and Nursing, as well as a Graduate program with over 6,000 students enrolled. Admissions for USC place a large emphasis on the rigor of academic study that students engage in while in high school, in addition to their SAT and ACT scores.
Here at Parliament Tutors, we are dedicated to helping you achieve the standardized test scores you need to get into the college or university of your choice, including USC. Our services offer a wealth of private tutoring and test preparation services in Columbia for students of all calibers. Whether you are searching for subject specific tutoring or standardized test preparation, Parliament Tutors has a specialist available in all levels of education and all academic subjects to suit your needs.