(864) 214-3013
By Appointment Only - We Come to You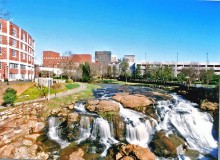 Midway between Atlanta and Charlotte is South Carolina's largest "Upstate" city and third largest urban area in the state with a population of over 400,000. Considered the "Textile Center of the World" in the early 1900s, the city's economic growth grew from its textile and machinery industries and continued to grow throughout the 20th century with the advent of army training camps during both World Wars.
The Greenville County School District is the largest in the state and 49th largest in the U.S. Greenville plays hosts to over 80 public schools, including the nationally recognized South Carolina Governor's School for the Arts & Humanities. The city is also home to various academic institutions of higher learning such as Clemson University, Furman University, South Carolina State University, the University of South Carolina, Anderson University and more.
With education statistics paralleling that of the overall state of South Carolina, high school rates in Greenville are at about 85% according to the U.S. Census Bureau. Likewise, the percentage of Greenville residents with Bachelor's degrees is slightly higher than the state's average at about 30%. With the help of our private tutoring and test prep services, Parliament Tutors hopes to help these numbers exceed far beyond their current standings.
Whether you are searching for subject specific tutoring or standardized test preparation, Parliament Tutors has a specialist in all levels of education from kindergarten to medical school and everything in between. Without a doubt, our tutors will help you enhance your educational experience and achieve the study skills and test scores you need to reach your unique potential and stand out above the rest.