(865) 685-5059
By Appointment Only - We Come to You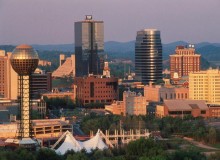 Originally the first capital of Tennessee, Knoxville grew out of the manufacturing industry with the arrival of the railroad in the 1850s that helped ease the city's geographical isolation issues. Its metropolitan area is home to some 850,000, people, making it one of the largest cities in the Appalachian region. Its location along the eastern portion of the state has also gained it notoriety as one of the gateways to the Great Smoky Mountains.
Since its foundation, the Knoxville area has given rise to some 90 public schools with over 50,000 students in its public school system. The city is also home to over 50 private academic institutions and plays hosts to the University of Tennessee's (UTK) main campus. In addition to UTK's enrollment of about 27,000 students, Knoxville also hosts populations for other institutions of higher learning such as Pellissippi State Community College, Johnson University, Knoxville College, South College and various other satellite schools.
Graduation rates in Knoxville are higher than that of the overall state's average, in both high school and post-secondary rates. As students continue to boost the city's academic reputation with above-average test scores, individual student recognition will only grow more and more difficult to achieve. To help alleviate this ever-growing problem, Parliament Tutors has a specialist available in all levels of education and all academic subjects.
With our help, we guarantee to nurture our students to become the best of the best. Whether you are searching for subject specific tutoring or standardized test preparation, our wealth of programs offers both private tutoring and test preparation services in Knoxville for students of all calibers.