(817) 591-0179
By Appointment Only - We Come to You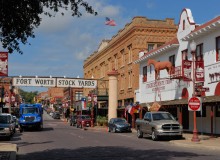 Forth Worth keeps getting bigger. Currently 16th in the U.S. in terms of population, the city is expected to have more than 1.2 million residents by 2030. Growth means more opportunity, but it also brings increased competition and greater expectations, making the edge education provides even more vital.
A look at the numbers shows that Forth Worth's residents already have a sound understanding of what learning can do. According to data from the U.S. Census Bureau, 78.6 percent of the community's workforce has completed high school, while nearly 26 percent of adults hold undergraduate degrees.
The city's college landscape features SMU (Southern Methodist University), which is a tier one college on both an undergraduate and graduate level as well as The University of Texas: Dallas in addition to a top medical school in The University of Texas Southwestern Medical School. As a whole 70% of Dallas residents earn a high school diploma, and a shade below 30% earn a bachelors.
At Parliament Tutors, we offer an extensive variety of services for students, whether they're in grade school, at Arlington Heights High School, matriculating at Texas Christian University (TCU) or enrolled in a prestigious medical, law or business program. With the assistance of our tutors, the quest to gain an edge results in success. We're well aware that the greatest component in the process is you – and we want to help you achieve excellence.
In addition to TCU, Forth Worth is home to a number of other notable academic institutions, including the College of Saint Thomas More, Texas Wesleyan University and Tarrant County College. The presence of these schools makes it clear that the area suffers from no shortage of educational options.
Despite the alternatives, however, Fort Worth's students will still struggle with particular concepts. Many, in an effort to grasp material, will spend hours attempting to teach themselves. Some will succeed, but most only lose confidence, forget about a test altogether, or skip what they don't comprehend.
By working with one of our tutors, those trying to learn gain access to someone skilled at solving problems that can seem so frustrating and difficult.