(757) 301-5357
By Appointment Only - We Come to You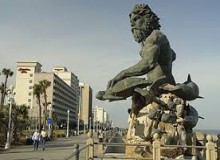 Parliament Tutors offers tutoring across Virginia Beach in every subject ranging from the ISEE through the MCAT, and everything in between. Whether you're trying to get into that top science academy or Harvard Medical School, we are here to help make your dream a reality.
We build a custom curriculum to attack your individual learning needs and then place you with the right experienced tutor. We'll teach you specialized techniques and targeted skills in order to get you ready for that big test.
Although it has one of the fifty largest public school systems in the United States, Virginia Beach features a multitude of impressive public and private elementary, junior high and high schools including academies for health sciences and the performing arts.
Virginia Beach is also home to Regent University and Atlantic University, as well as is within driving distance of The University of Virginia, Old Dominion, Norfolk and Virginia Tech
With these impressive options, it is hardly surprising that over 90% of Virginia Beach residents hold a high school diploma, and close to 30% hold a bachelors or higher (between 15-20% above the national average on both counts) according to the most recent US census.
As the number of high school graduates increases, and as the internet makes knowledge virtually universally accessible, the national average is higher than it's ever been before, which makes standing out all the more difficult. Indeed, college and graduate schools are more difficult now than they have been in any past generation. However, in this economy one also needs to get a quality education to compete in the work force.
Tutoring is a secret weapon for many students. It enables them to turn their weak subjects into strong ones and truly helps to place them above their peers. Simply put, it is a little secret – an advantage that nobody knows you have in which a true expert helps show you how to master whatever subject matter you are struggling with. With the right tutor, you no longer have to accept that there are certain subjects you just aren't good with. You can truly be great at everything and live up to your true potential.