(425) 242-5199
By Appointment Only - We Come to You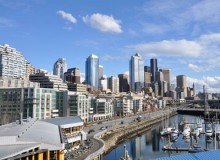 In the foothills of the mountains and skirting the shores of Lake Washington, Bellevue stands as the gatekeeper between Seattle and the world. Ranking among the wealthiest communities in Washington, Bellevue was also named by CNN to its list of the best places to live and start a business in America. It has also ranked independently on lists of the best places to live in America.
The area also boasts an impressive academic resume. The Bellevue School District's four main schools have consistently proven themselves to be among the top 100 public schools in the nation. In addition, the International School and the Big Picture school provide alternative educational routes for local students. With the Bellevue's wonderful school system and its various educational opportunities has also naturally come increased academic competition amongst peers, leaving many students interested in supplemental educational opportunities.
Parliament Tutors offers a broad and highly effective array of services to students in the Bellevue area, whether they are currently in grade school, high school, attending a local college or university, or receiving specialized training in an elite professional program. Our tutors aim to help each student train their minds well such that they can attain their highest potential and to compete effectively. Parliament Tutors is especially proud of its reputation of helping students compete effectively through tailored and individual attention. We routinely hire tutors that are the most knowledgable and experienced within their special fields. Additionally, we work to make sure that every student-tutor pairing is best suited to the student's academic needs.
Parliament Tutors' is well acclimated to the specific educational needs and goals of those in the Bellevue area and has a strong record of providing well for students. Through individualized tutoring, Parliament Tutors offers exactly the sort of educational opportunities students often find themselves wishing for in order to prepare well for successful futures.